KNITTING FACTORY MANAGEMENT SHOWCASE
The Federal Bar | North Hollywood
TUESDAY JULY 22
As part of the third night of The Knitts' month long residency at The Federal Bar in North Hollywood, Knitting Factory Management presents

The Two Tens- 9PM

The New Electric Sound- 10PM

The Knitts-11PM

$5.00 Cover | 21+
To RSVP for FREE entry, send your full name to info@knittingfactorymgmt.com or join the official KFM Showcase event page on Facebook -> HERE <-
5303 Lankershim Blvd.
North Hollywood, CA 91601
---
The New Electric Sound Set To Join Deer Tick Tour
August 11th Knitting Factory Reno & August 12th Knitting Factory Boise
Knitting Factory Management artist, The New Electric Sound, will join Deer Tick on their Summer Slammer Tour. August 11th they join Deer Tick in Reno, Nevada and August 12th in Boise, Idaho.
Monday, Aug 11, 2014
Knitting Factory Concert House, Reno, NV
To purchase tickets visit http://tktwb.tw/1oyjOFc
Tuesday Aug 12, 2014
Knitting Factory Concert House, Boise, ID
To purchase tickets visit http://tktwb.tw/1k2Vcld
---
Smoota sits with Band Width to talk about his latest album, Fetishes, upcoming shows and MORE! Read the full article HERE
---
THE KNITTS' RESIDENCY
The Federal Bar | North Hollywood |
EVERY TUESDAY | July 8 - July 29
Admission: $5.00 | Doors: 8PM
The Federal Bar
5303 Lankershim Blvd. North Hollywood, CA 91601
JULY 8th (21+) :
Hosted by comedian Justin Foster
Matt Jaffe and the Distractions- 9PM
JULY 15th (21+) :
Hosted by comedian Justin Foster.
Most Eligible Basturds- 9PM
JULY 22nd (21+) :
The New Electric Sound
- 10PM
JULY 29th (18+) :
---
THE NEW ELECTRIC SOUND
Hemingway's Lounge | Hollywood, CA
Next Week! Wednesday June 25th | 10PM
Catch Knitting Factory Management's newest artist, The New Electric Sound, at Hemingway's Lounge in Hollywood. The band will be joining Omniflux, for one night of their month long residency. Admission is FREE!
Hemingway's Lounge
Los Angeles, California 90028
---
Adam Bones Covers Justice's "New Lands"
Originally a Justice song released in 2012, Adam Bones has added his own rock 'n' roll flare to this cover of "New Lands." The video, shot at Loaded Hollywood, features Adam Bones, Breanna Fields, Tracy Lambertucci and Rikki Styxx performing live at one of their action packed shows.

To watch Adam Bones' newest music video CLICK HERE!
Video Credits Include:
Produced, Engineered & Mixed by Bruce Duff
S.R.C.E Production
http://www.srceproduction.com
Filmed by Larry Niehues and Yoan Hermelin
Edited by Yoan Hermelin
---
The New Electric Sound is a five-piece "young, handsome, and heavily cardiganed" modern pop rock band from Provo, Utah "delivering something palpably and adamantly original, with a sweet sugar coating of nostalgic goodness." The New Electric Sound members include Scott Vance (lead vocals & guitar), Tom Britton (bass & vocals), Ben Zabriskie (lead guitar & vocals), Tony Carlson (drums) and Nigel Goodwin (keyboard).
"It's impossible to NOT dance to The New Electric Sound's music. Their sound is refreshingly unique and addicting. They'll be a great fit on the Knitting Factory Management artist roster," says band manager Jessica M. Amezcua.
For more information on The New Electric Sound visit:
---
The Knitts Set To ROCK Loaded Hollywood
Tuesday April 29th with Deluka
6
377 Hollywood Blvd, Los Angeles, California 90028
Doors: 8PM | Admission: FREE
---
"Living in Sin"Debuts on LASF Magazine
Hear It NOW & Buy the Single Friday April 25th

Be one of the first people to listen to the newest Prima Donna single, "Living in Sin." Making it's debut on LASF Magazine, "Living in Sin" is "a tongue in cheek manifesto about growing up in the San Fernando Valley."
Click on the link below to read the LASF article with the exclusive link to enjoy "Living in Sin." The link on LASF will also give you a chance to join the Prima Donna sharing competition. Be sure to click the blue "Connect with Facebook" button to learn how you can win 1 of 4 prize packs just for sharing!
CLICK HERE for access to the LASF Article and exclusive link:
http://www.lasfmagazine.com/music.html
---
CHOP AND QUENCH, "The Fela! Band", is comprised of members of the cast and band of FELA! the musical. Individually, the musicians are some of the finest in New York, having performed with The Roots, India Arie, Elvis Costello and many others. Lead singer Sahr Ngaujah was nominated for a TONY Award for his performance in the Broadway show and has been featured on film and television. As a unit, the band has gotten to accompany performers such as beyonce, Femi Kuti, and Angelique Kidjo. Known for their straightforward performances of classic Fela Kuti compositions, they have branched out, bringing their own original music to the stage.
Visit the official Chop and Quench website
CHOP AND QUENCH Knitting Factory Brooklyn Residency
Every Monday starting April 14th, Sahr Ngaujah and his band Chop and Quench take the stage at Knitting Factory Brooklyn.
Residency Dates: Every Monday April 14 - June 2
Doors: 8:00PM / Show: 8:30PM
$8 Advance / $10 Day of Show
Tickets Available at http://bk.knittingfactory.com
Knitting Factory Brooklyn
361 Metropolitan Ave
Brooklyn, NY 11211
---
PRIMA DONNA to release to Release New Vinyl Single
on Wanda Records
Weeks before they head out on their Living In Sin European Tour, Prima Donna rolls out a new 7 inch 45rpm record coming out on Wanda Records in Germany. Living In Sin is set for European release Friday April 11th!
---
Friday April 11 @ The Biltmore in Truckee, CA
Sunday April 20 @ Arlene Francis Center in Santa Rosa, CA
Saturday May 10 @ Llamapalooza in Colorado Springs, CO
Tuesday May 13 @ Belly Up in Aspen, CO
Wednesday May 14 @ The Moxi Theater in Greely, CO
Thursday May 15 @ Animas Theater in Durango, CO
Sunday June 1 @ Summer Arts & Music Festival in Garberville, CA
Saturday June 14 @ Novato Art & Wine Festival in Novato, CA
Wednesday June 25 @ Three 20 South in Breckenridge, CO
Thursday June 26 @ Mountain Air Music Series in Ouray, CO
Friday June 27 @ The Eldo in Crested Butte, CO
Saturday June 28 @ Boulder Theater in Boulder, CO
Friday July 4 @ High Sierra Festival in Quincy, CA
Saturday July 5 @ High Sierra Festival in Quincy, CA
---
SMOOTA California Show Dates
Thursday April 10 @ Bar Pink in San Diego, CA
Friday April 11 @ Vin de Syrah in San Diego, CA
Saturday April 12 @ Cheetahs in Los Angeles, CA
Sunday May 25 @ Lightning in a Bottle Festival in Bradley, CA
Friday August 15 @ Center For the Arts Eagle Rock in Los Angeles, CA
---

High Voltage Magazine recently released their 10 Year Anniversary issue and Adam Bones is in it! Adam put together a special playlist entitled "Garage Rock, Now & Then" for the magazine's "Mixtape" section. To listen to the High Voltage Magazine 10th Anniversary mixtape exclusive Spotify playlist that includes selections from Adam Bone's visit http://spoti.fi/1iTIfM0
---
THE KNITTS Store is NOW Officially Open
To get your official Knitts gear visit their site: www.knittsmusic.com
---
Thursday 03/13/14
KFMgmt's SXSW Artist Sampler Playlist
KFMgmt is at SXSW and we are giving out these AWESOME pick cards! On the card you will find our exclusive SXSW Artist Sampler Playlist. Type in the yourlisten link provided or scan the QR code to hear tunes from ALL of our artists! Like what you hear? Be sure to click the purchase links provided.
---
Monday 03/03/14
KFMgmt Welcomes Afrolicious & Smoota
AFROLICIOUS is the premiere afrobeat band from San Francisco. The band has established itself at one of the most legendary weekly parties at San Francisco's Elbo Room. Between their weekly party and their sound system shows that involve DJing alongside live percussion, they also have a 8-12 piece live band that emphasizes the organic elements, instrumentation, and energy of a live ensemble combined with club heavy beats and textures the weekly party has come to be known for.
A singer and trombone player, SMOOTA writes steamy, sensual songs with a directness and honesty unusual in music. His groovy, provocative, and arousing style has drawn comparisons to Serge Gainsbourg, Barry White, Bryan Ferry, Peaches, and Beck. Renowned for his passionate trombone playing and tours with TV on the Radio, Sufjan Stevens, and Spoon, Smoota has developed a reputation for a rare combination of alluring lyrics and warm, erotic sounds.
---
The Knitts Release Gutterboy Music Video
and Announce Viper Room Show
The first official music video for THE KNITTS has arrived! Buckle up and hold on! "Gutterboy," a 45 second round about music video full of rockin' choas put together by the Beats and Pieces crew. CLICK HERE or the image below to watch "Gutterboy."
THURSDAY March 6th, The Knitts 2014 return! For their first show of the year the band is set on making this show one of their biggest! The band hits the stage at 8:30PM.
Joining the Facebook invite HERE will guarantee you FREE entry to show!

Can't get enough of the Knitts? Click HERE to check out their Viper Room promo video!
---
Prima Donna To Host March 4th LIVE StageIt Show
Coming off their stellar show at Loaded in Hollywood and before they head on out on their European tour, PRIMA DONNA gears up for their third LIVE StageIt show. Starting at 1PM, this thirty minute live streamed show is not to be missed!
Purchase your tickets by clicking HERE or the StageIt Logo below!
---
ADAM BONES on Hunnypot Radio Live March 10th
THURSDAY March 10th, Adam Bones and his rocking lady trio will tear it up on Hunnypot Radio Live at The Mint! With a head full of hair NOT made for radio, make sure you stop by and catch Adam Bones rock it out LIVE!
---
Thursday 02/27/14
THIS Sunday March 2nd | The Federal Bar
THIS JUST IN: PRIMA DONNA will be joining the Mimosa Music Series featuring Chris Stamey!
Gary Calamar moves his intimate Mimosa Music Series out of his Laurel Canyon living room and into North Hollywood's beautiful Federal Bar. Come on down for a bagel, mimosa and some great music.
All Ages • Sunday Brunch • Bring a Friend!
Prima Donna is set to play at 11:00AM!
The Federal Bar
5303 Lankershim Blvd
North Hollywood, CA
---
Tuesday 02/25/14
GUTTERBOY MUSIC VIDEO RELEASED
IT'S HERE!!! The first official music video for The Knitts! Check out the recently released #Gutterboy music video!


---
Thursday 02/06/2014
Prima Donna & The Knitts are nominated for BEST LIVE BAND IN LA!

WHO WILL YOU PICK?! Use two computers & vote for BOTH! Click HERE to make your choice!
---
Thursday 01/30/2014
ADAM BONES

Returns to Club Moscow


---
Tuesday 01/28/2014
"She Likes The Idea of Gold" Teaser
---
Thursday 01/16/14
San Diego's School of Rock!
January 18th, The Nervous Wreckord "will be covered by San Diego's School of Rock during a special Best of San Diego show."
Full article and more information about this event can be found HERE!
---
ADAM BONES Manic Panic Sponsorship & Upcoming Shows
Adam Bones and his All-Girl-Kung Fu-Army of riffs and beats (his band) are now officially sponsored by Tish & Snooky's MANIC PANIC N.Y.C!
"We're happy to be associated with a company as legendary as Manic Panic. They were there at the start and have seen and been thru it all. Plus they have made everyone look really cool along the way. We're looking forward to them making us look even better than we already do... which we didn't think could even be possible."
-Adam Bones
Congratulate the band on their hair and make-up deal with Manic Panic in person! Catch them rocking out at one or ALL of the following shows:
Wednesday, Feb 5
@ Club Moscow at Boardner's
1652 N Cherokee Ave.
Los Angeles, CA 90028
Thursday, Feb 27
@ Loaded
6377 Hollywood Blvd.
Los Angeles, CA 90028
---
THE FEDERAL BAR - LONG BEACH
Ring in the New Year with The Knitts at The NEW Federal Bar located in Downtown Long Beach's Dining & Entertainment District. $15 advance tickets can be purchased HERE. Tickets can also be purchased for $20 at the entrance gate.
8:00PM- Event Begins
8:30PM- Dekades (Federal Bar Stage)
10:30PM- The Knitts (Federal Bar Stage)
11:55PM- Countdown Celebration Begins
---
MARK YOUR CALENDARS!
TODAY! Right Now!
"Rock and Roll Is Dead" is up for Little Steven's Underground Garage "Coolest Song In The World 2013." To win this beloved title, they need your precious votes. So….VOTE!
You May Vote Once Every 24 Hours and voting ends 12:00 PM on Saturday December 28th.
---
Sunday, December 15- StageIt Online Show
Don't miss out on your chance to see Prima Donna through your computer screen performing live acoustic tunes for your pleasure! Get ready to interact with the boys of PRIMA DONNA!
Click HERE to get your "tickets" to this unique limited experience!
---
Saturday, December 21- Slide Bar Show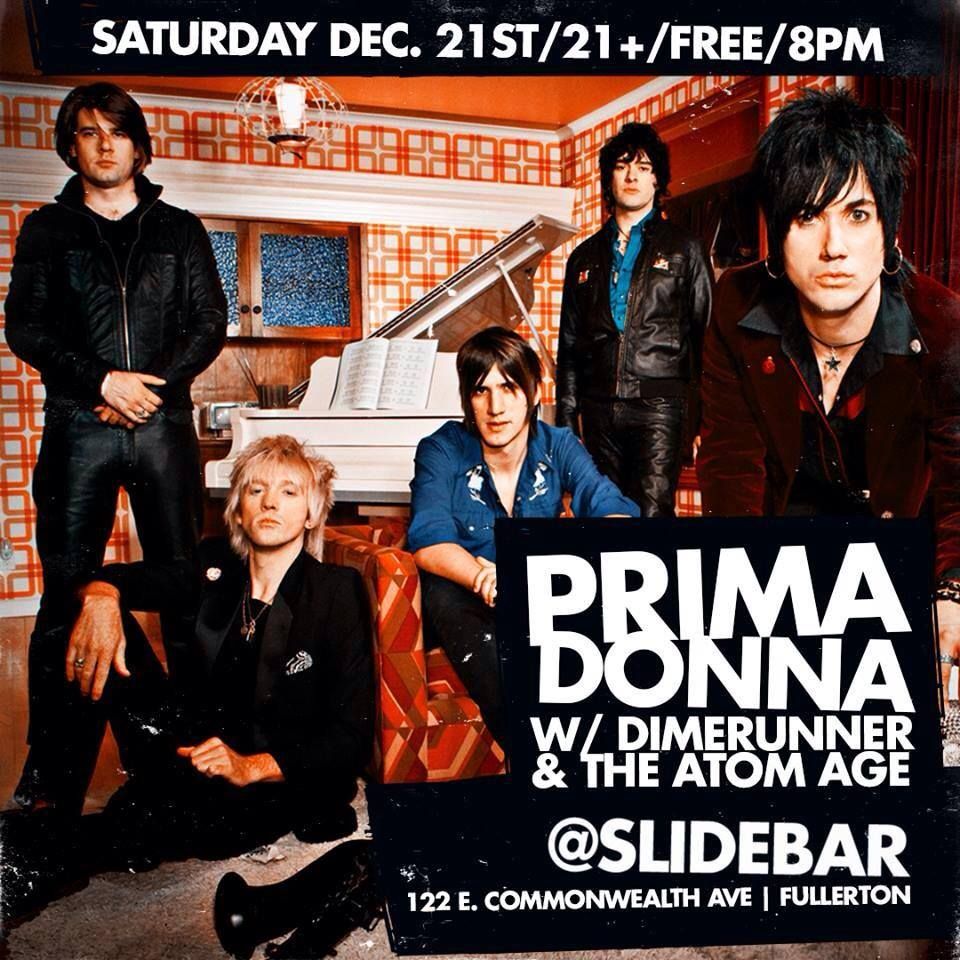 ---
Tuesday, December 31st- NYE Show
---
THIS SUNDAY Adam Bones Rocks The 5th Annual High Voltage Holiday Party!
Kick off the holiday season with Adam Bones and his awesome rocking female band before they head out to rock Colorado. Join them as they ring in holiday season with the ladies of High Voltage Magazine!
(Every paid entry will receive a FREE MYSTERY GIFT from "Santa" upon entry)
---
Prima Donna, Adam Bones at
The Viper Room on Thursday, Nov 21

Thursday, November 21st

Prima Donna
The Black Tibetans
The After Hours

**JOIN THE EVENT PAGE HERE AND YOU'LL BE ADDED TO THE DISCOUNT LIST!**

The Viper Room
8852 West Sunset Boulevard
West Hollywood, CA\
---
"Highlights of the Lowlife" Newest Video Release From Adam Bones

"Highlights of the Lowlife," the latest video from KFMgmt artist Adam Bones, has made its debut on Buzz Bands LA!
Click HERE to view "Highlight of the Lowlife" on Buzz Bands LA.
"Highlights" introduces Gus, an adorable, spunky lil pup making giant waves in the music industry.
Directed by Brad "B. Radical" Spencer, "Highlights of the Lowlife," off the new Adam Bones EP, Rock It Up, takes a behind the scenes look into the hardcore world of rock n roll through the eyes of one of its tiniest, up and coming stars.
Video Credits:
Director - Brad "B. Radical" Spencer
Director of Photography - Dabling Harward
Post Production - Spinflight Studios
(http://www.spinflightstudios.com)
#GusTheDog | #HighlightsOfTheLowLife | #AdamBones | #RockItUp